40 OVER 40 PROJECT
"Shine Unapologetically"
celebrating women 40+
---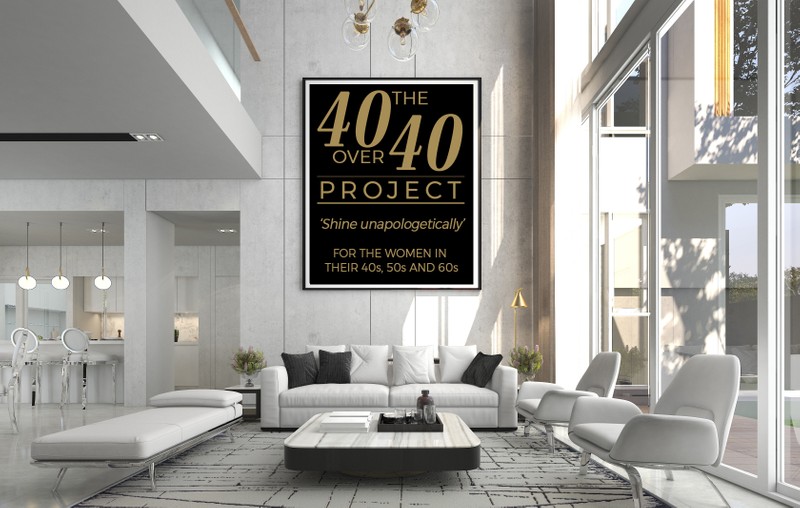 ---
I AM PHOTOGRAPHING 40 WOMEN IN 2022 FOR MY PROJECT, AND I WOULD LOVE FOR YOU TO BE ONE OF THEM!
Too many women over 40 make themselves invisible, as they don't think they are (beautiful) enough to be on photographs.
I'm here to change that.
It is time to shine unapologetically, and start a movement about the beauty of aging and to embrace the confidence of finally being comfortable in our own skin. Together we can change the way the world defines aging, and we can lift and empower those that are coming up behind us. Join me on this adventure to empower women being 40 and over.
I will be photographing 40 women over 40.
You are invited to a celebrity experience photo shoot, culminating in a unique 40 over 40 magazine of all the gorgeous women, and their unique stories.
HOW MUCH DOES IT COST?
I am offering the 40 OVER 40 Project as a special promotional package for
only 499,- Euro
(valued at 1250,- Euro)
WHAT DOES IT INCLUDE?
As one of my '40 OVER 40' women, your package will include:
The pre-consultation to discuss how you would love to be photographed, and guidance on what best to wear.

Full hair and make-up application by our professional on site hair and make-up artist (you will feel, and look absolutely amazing!).

Fully guided, professional photo shoot that is a lot of fun!

A reveal and ordering session where you can see all your beautiful photographs, choose your complimentary premium enlargement (value 900,- Euro), and receive an additional 100,- Euro credit toward any folio collection (package) if you choose to purchase more.

Your photos, and/or a video along with your story, may be published on social media and on my website, and in a special 40 over 40 magazine.
AS PART OF SHOWCASING THE PROJECT
You will be interviewed by me before/after the photoshoot about being a woman over 40. This may include video interviews or answering a written questionnaire.

Your interview may be shared on my website and on social media.

Before and after makeover photos may be shown on social media, print media, website, and any other marketing materials.

It will be required to sign a model release for your images to be used for promotional purposes. Other conditions may apply.
SESSIONS ARE LIMITED



I AM READY! SIGN ME UP
CLICK ABOVE TO PARTICIPATE or
scroll down to learn more
A FEW 'WHY SHOULD I DO THIS?'
To celebrate where you are right now.

To do something just for yourself.

To embrace every curve, line and scar no matter your age, shape or size.

To share YOUR story.

To help other women realize their potential by stepping out of the shadows.

To live by example for our children.

To acknowledge that self love isn't selfish.

To find self love again.
WHY OVER 40, WHY ME, AND WHY NOW?

I started my portrait photography business after turning 40, and I wanted to create something about women coming into their power. Turning 40 makes you look at where you are right now, and if you are truly happy there. I decided to step in front of the camera, and being captured by a professional photographer. It was scary, and I know exactly how frightening it can be. But it made me understand how my clients feel every single time. I've got you! After the photo session you will feel re-energized, re-born, free, super strong, and ready for the world! I wanted to give this very special gift to all women.

It will be fun, fulfilling, and transformational. The change is within you, and I want to bring it out! Join me on a fun and life changing adventure.




Self portrait of Bettina Battaglia
Award winning photographer
WHO CAN TAKE PART IN THE PROJECT?
I would love to photograph a wide variety of women 40 and over. Let's create a wall of stunning images of women of different shapes and sizes; women with different tastes, from different backgrounds, and with different views of life.
The Bettina Battaglia Photography experience is an exciting, pampering, indulgent adventure, custom tailored and focused on just YOU!
Think about how you want to be captured, what does your legacy look like? My passion is to take the every-day woman and give her an unforgettable magazine-style photo shoot experience.
It's about so much more than just "taking pretty pictures, and adding a filter on your phone." My hope is for you to truly reconnect with yourself, see your beauty the way others already see you.
WHAT IS INCLUDED?
1.CONSULTATION
Complete custom photo session designed for you, including wardrobe and styling consultation.

2. PROFESSIONAL MAKEOVER
Hair and make-up application by our professional on site hair and make-up artist.
Whether glamorous or natural and refined, it's all up to you! You should still be you, and make-up should enhance your beauty, not cover it up.

3. MAGAZINE-STYLE PHOTO SHOOT
Cover girl for a day! You will feel like a magazine cover girl for a day, and enjoy a fully, expertly guided photoshoot.
Not feeling photogenic? You are in good hands! It is my job to make you comfortable, to show you in your best light with flattering posing. Get ready, and you will rock this!

4. THE REVEAL
We will schedule a time for you to come back and view your beautiful portraits in person or via a zoom meeting online, about a week later. At that time we will review the best images from your session. You can choose your complimentary enlargement, and if you desire more, you will receive 100,- Euro toward an image folio collection (package). No obligation to buy, you only purchase the images you love!
One of the great and special aspects of this promotional package is you get a complimentary Italian handcrafted Amalfi panel ready-to-hang-on-your-wall enlargement (and respective digital), whereas my images are usually sold separately. If you would like to purchase more images from your shoot we have many beautiful products - from wall art to storing your new images in luxury folio boxes from Italy.

| | | |
| --- | --- | --- |
| Luxury folio box from Italy | | Complimentary premium enlargement HD Fine Art Print |
WOULD YOU LIKE TO GIFT THIS SELF EMPOWERING, AND FUN EXPERIENCE?
Have someone in mind? Send me an email!